The following items are available for sale. With the exception of the 150th Anniversary Banner (funding the Village celebration), proceeds from these items benefit the Dobbs Ferry Historical Society.
You may order online using the links below. Or mail us a list of items you wish to purchase along with a check made out to Dobbs Ferry Historical Society.
---
Dobbs Ferry 150th Anniversary Celebration Commemorative Banner
Support the celebration by purchasing a banner.


In the Notes section of your PayPal payment, please be sure to include:
Your name
Your email
Your phone number
How you would like your sponsorship to read
If you would like your business logo to appear on the banner, please be sure to include the word 'LOGO' and someone will contact you to make arrangements.
Price : $150

---
The Dobbs Ferry Historical Society Flag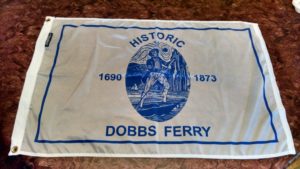 Here is your chance to own the new banner developed by the Society. This 2 foot-by-3 foot vinyl flag will show your appreciation of and pride in Dobbs Ferry's unique place in history. The original is flying from the Waterfront Flagpole.
Price : $25 plus $2.00 S/H
---
The Dobbs Ferry Bottle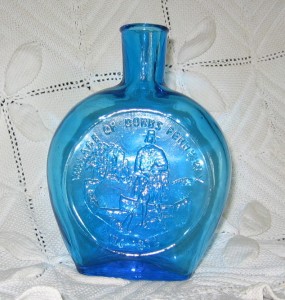 Antique-style bottle made of blue glass with Dobbs Ferry logo.
$15.00 plus $3.00 S/H
---
George Washington at "Head Quarters, Dobbs Ferry"
by Mary Sudman Donovan and Larry Blizard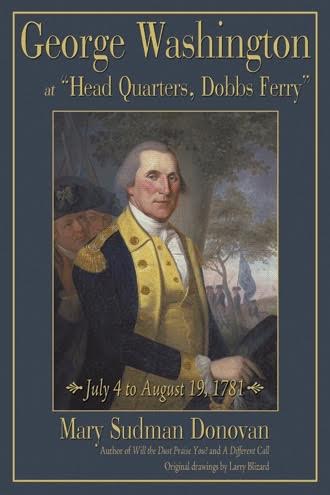 The account of George Washington's Continental Army and French troops commanded by the Comte de Rochambeau in this area before embarking on the march to Yorktown.
Paperback: $13 plus $5 S/H
Hardcover: $23 plus $5 S/H
---
---
Dobbs Ferry: Then and Now
by Judith Doolin Spikes and Anne Marie Leone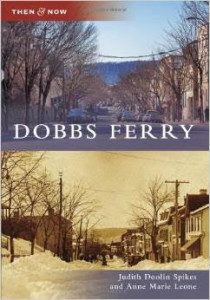 Photographs of Dobbs Ferry with historic information comparing present images with those from the Village's past.
Paperback: $22.00 plus $6.00 S/H
---
George Washington's Westchester Gamble: The Encampment on the Hudson and the Trapping of Cornwallis
by Richard Borkow
Recounts the dramatic events that took place in the Dobbs Ferry area in the summer of 1781 when Generals Washington and Rochambeau designed the strategy that won American Independence.
Paperback: $22.00 plus $6.00 S/H
---