The Little White Church Cemetery is located on Ashford Avenue just east of Storm Street.
Martin Lefurgy, who had owned this ancient community burying ground since 1785, donated it to the Presbyterian congregation in 1823. It was given to Dobbs Ferry in 1962. The last burial occurred in 1886.
There was a great deal of breakage of gravestones during the decades prior to the restoration efforts begun by the village in 2013. Between 2013-2014, restoration work was done in three phases but much more was left to be done in the future.
Currently the village hired a conservator to do restoration work on twenty gravestones and to address other aspects of the appearance of the cemetery. We can see many formerly toppled and broken gravestone restored to upright positions from pieces that were lying and buried. Now we can read many additional names, dates, and sometimes epitaphs. Some gravestones are beautifully carved and others simple. Some for long-lived and some for children. It is a special piece of our heritage. The cemetery is open to all. Please visit.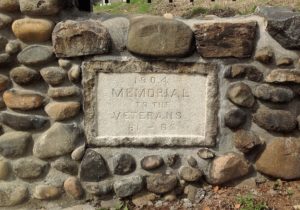 The state of the cemetery before current renovations:
Click here for an alphabetical list of gravestone inscriptions.