The Dobbs Ferry Historical Society has begun a program to recognize historic buildings in our village.
Plaques indicating the year the home was built will be offered to homeowners and businesses in Dobbs Ferry. To be included, the building must be located within village limits.
To participate, owners will be asked for documentation such as deeds, building permits, surveys, etc. indicating the year of construction.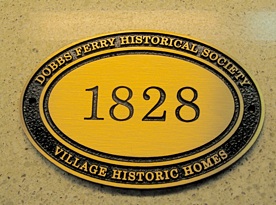 For assistance in home research, please see Find Your Home.  If the year cannot be determined, a 'c' for circa will be added to the plaque.
The Society is aware that it is not always possible to determine the absolute accuracy of the date due to the nature of many historical records. The Society reserves the right to deny specific requests for plaques based on a review of historical data.
Copies of all documentation submitted will become part of the Dobbs Ferry Historical Society Archives. By participating, you will be helping document the historical roots of the village of Dobbs Ferry.
The fee to participate is $300 which covers the cost of the plaque and the  research.  To apply, call the Dobbs Ferry Historical Society 914-674-1007.  To download the application blank, click on ApplicationBlank-1