Sunday, March 26 at 2:00 PM
Dobbs Ferrry Library, 55 Main Street
Westchester author Carol Brier will speak about her recently published book, Mr. Jay of Bedford: John Jay, The Retirement Years 1801-1829.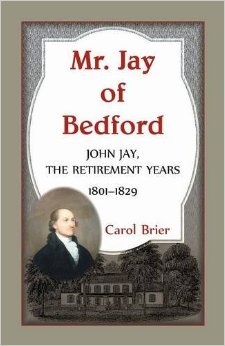 Ms. Brier will talk about the later years and legacy of Westchester statesman, John Jay. After serving his country in many varied roles, the last as governor of New York, Jay took up residence at his beloved farm at Bedford in 1801, At the farm he turned his attention to his crops and livestock, family, friends, compatriots, and servants, free and slave. We will learn about the technological advances of the day (such as Hudson River steamboats and the Erie Canal), about Jay's continuing literary and political pursuits, his close friendship with novelist James Fenimore Cooper, and his participation in an important debate on the authorship of George Washington's Farewell Address.
Admission is free, and all are welcome.
Carol Brier has written many articles about John Jay for various historical publications. She is the author, publisher and administrator of the JOHN JAY FORUM, a blog devoted to researching John Jay and his family, with information about books, articles, manuscripts, pamphlets, events and links. Her 2016 book, Mr. Jay of Bedford, John Jay, The Retirement Years 1801-1829 was published by Heritage Books and contains much new scholarship.